Institute for Biomedical Sciences, Library
Innovational Direction of Iwate Medical University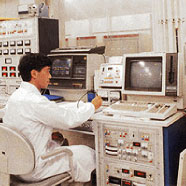 We have established the following research facilities to meet the needs of the latest research in the fields of medicine, dentistry, and pharmacology: the Advanced Medical Science Research Center; the Central Research Section, which include the Center for Electron Microscopy and Bio-Imaging Research (EMBIR), the Image Information Center, the Animal Experiment Center, the Isotope Research Center, and the Cyclotron Center. These research facilities are staffed with ample specialists and equipped with the latest tools to meet the researchers' needs.
In particular, the Cyclotron Center, located adjacent to the Japan Radioisotope Association Takizawa Laboratory, is one of the few facilities in Japan where advanced medical research on positron nuclear medicine is conducted using the small medical cyclotron, with expectations of yielding fruitful results for clinical research as well as basic research.
In academic year 1999, we received funds from the Ministry of Education, Science, and Culture (present-day MEXT) for their Private University High-Tech Research Center Project, and the School of Medicine and the School of Dentistry each embarked upon a new project.
---
Timely and Interdisciplinary Expansion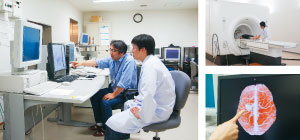 We nurture new seeds of ideas and propel innovation in basic and clinical fields through state-of-the-art projects. With an interdisciplinary vision that links medicine, dentistry, and pharmacology, our motivated staff strive to integrate intellectual properties of various nature. Findings on topics such as cancer, infectious diseases, and lifestyle-related illnesses are released domestically and internationally. We also strive to strengthen the network among the university, industry, and government to match various demands.
---
Departments
Advanced Medical Science Research Center
Advanced Oral Health Science Research Center
Ultrahigh Field MRI
Department of Translational Research
Department of Clinical Epidemiology
Tumor Biolosy
Department of Neuroscience
Department of Vascular Biology
Department of Cell Biology / Regenerative Medicine
Laboratory for Nano-Neuroanatomy
High Energy Medical Research
Laboratory Animal Medicine
Center for Electron Microscopy and Bio-Imaging Research
Image Information Center
Center for In Vivo Sciences
Cyclotron Research Center
Radioisotope Research Center
Medical Engineering Center
Medical Three-Dimensional Imaging Laboratory
Center for life science and technology
---
Focusing on Dentistry in an Aging Society
Advanced Oral Health Science Research Center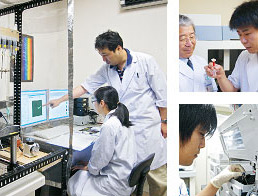 Our research environment has been significantly enriched through the High-Tech Research Center Project and the Open Research Center Project selected and funded by MEXT. Many timely projects that contribute to society are in progress.
Current research topics include:
Research on Stomatognathic Antiaging Medicine as a Gerontological Science and Development of Function Recovery Methods Using Biomaterials
Development of Dentistry and a Basis for Cell Therapy to Overcome Intractable Dental Maladies
---
A More In-Depth Drug Development From a Clinical Perspective
Advanced Pharmaceutical Science Research Center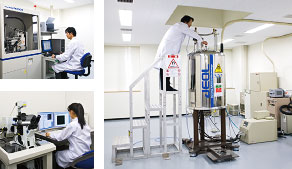 Development of various drugs and testing their effectiveness at the clinical level—the roles of pharmacology are expanding as medical needs become increasingly more fractionalized and advanced.
This facility was established on the Yahaba campus as a hub for pharmaceutical research for the next generation, with an aim to widely contribute to society. Coordination among the School of Medicine, the School of Dentistry, the School of Pharmacy, various research departments, and various organizations outside the University will be enhanced.